Der Online-Shop für hochwertiges irisches und britisches Essen
DALRIATA
Der Online-Shop für hochwertiges irisches und britisches Essen
---
Schnell.
Lieferung in 2-3 Werktagen.
---
Wir versenden deutschlandweit mit DPD.
Tiefkühlware kommt in modernster Isolierverpackung.
*Bestellungen, die am mittwoch, donnerstag oder freitag aufgegeben werden, können am folgenden Montag versandt werden.
Freundlich.
Echter Kundenservice von echten Menschen.
---
Wir sind ein kleines Familienunternehmen. Ihre Kundschaft ist uns wichtig. Wir kümmern uns persönlich um sicherzustellen, dass Sie mit Ihrem Kauf zufrieden sind.
Und wenn Sie nicht begeistert sind, einfach bescheid sagen, wir bringen alles in Ordnung. Versprochen.
Kostenlos.
Keine Versandkosten für Bestellungen über 70 €.
---
Egal, was Sie bestellen, wenn Sie mehr als 70 € bei uns ausgeben, schicken wir es Ihnen kostenlos zu.
Für Bestellungen unter 70 € fallen Lieferkosten an.
---
---
Kundenmeinungen bei Google
This is a great shop to get all your home comforts from Ireland and the UK. The owner of the shop is super friendly and helpful. We ran into an... read more issue recently with an order and he went out of his way to resolve it for us. We love visiting the shop and would recommend it to anyone living in Berlin looking for some treats from home!

Michael Fox


8 Januar 2023

Sehr freundliches und sympathisches Team. Hat sofort auf mein Anliegen reagiert. Super🤗. Freu mich sehr auf die Produkte. Grüße aus dem Allgäu

Roland Greiner


6 Oktober 2022

Such a sweet, friendly shop - lots of Irish goodies and a good english selection too - shopkeeper was happy to help and was asking us if there is anything... read more else we would want to see in the shop! Great to have a bit of home food amongst all the german Lidl trips.

Jessica Kolb


20 Oktober 2021

Lovely little shop, friendly owner, and some really great things for sale that you can't get in German supermarkets e.g. proper cheddar!

Emma Anne Harris


23 August 2021

Great shop - I'm so thankful to have somewhere I can get Irn bru that reminds me of home in Berlin! Always been very friendly whenever I have been to... read more the shop and I recently tried one of their pies and it was AMAZING! Always recommend this place to friends.

Eilidh McDonald


20 Dezember 2021

Great little shop with a surprising amount of selection. I love that there is an option to order online and pick up in-store. Pro tip: get a pie if they're... read more in stock!

Kyra Jacques-Grundy


23 August 2021

Wonderful shop! Great range of products for a reasonable price. The owners are lovely and went absolutely out of their way to help me in my tea-mergency.

Cara Maennchen


20 September 2021

Hi, we just received our order of Clonakilty products. Wow!! Everything was still frozen, expertly packed and the delivery was incredibly fast. Up until now we were ordering... read more from a great company in Cork, but unfortunately we were paying nearly €70 just for p&p. Now that I know that we can order directy from your shop, we will definitely become regulars. :-) Thanks a million.

Allan Murphy


1 Januar 1970
---
---
Inselfeinkost verschenken mit Dalriata Gutscheine
---
Artisankekse von Hassetts Bakery
---
Full Irish breakfast von Clonakilty Foods
---
Spannende Gewürze von White Mausu
Artisanale scharfe Saucen von Blackfire
---
@dalriataberlin auf Instagram folgen!
---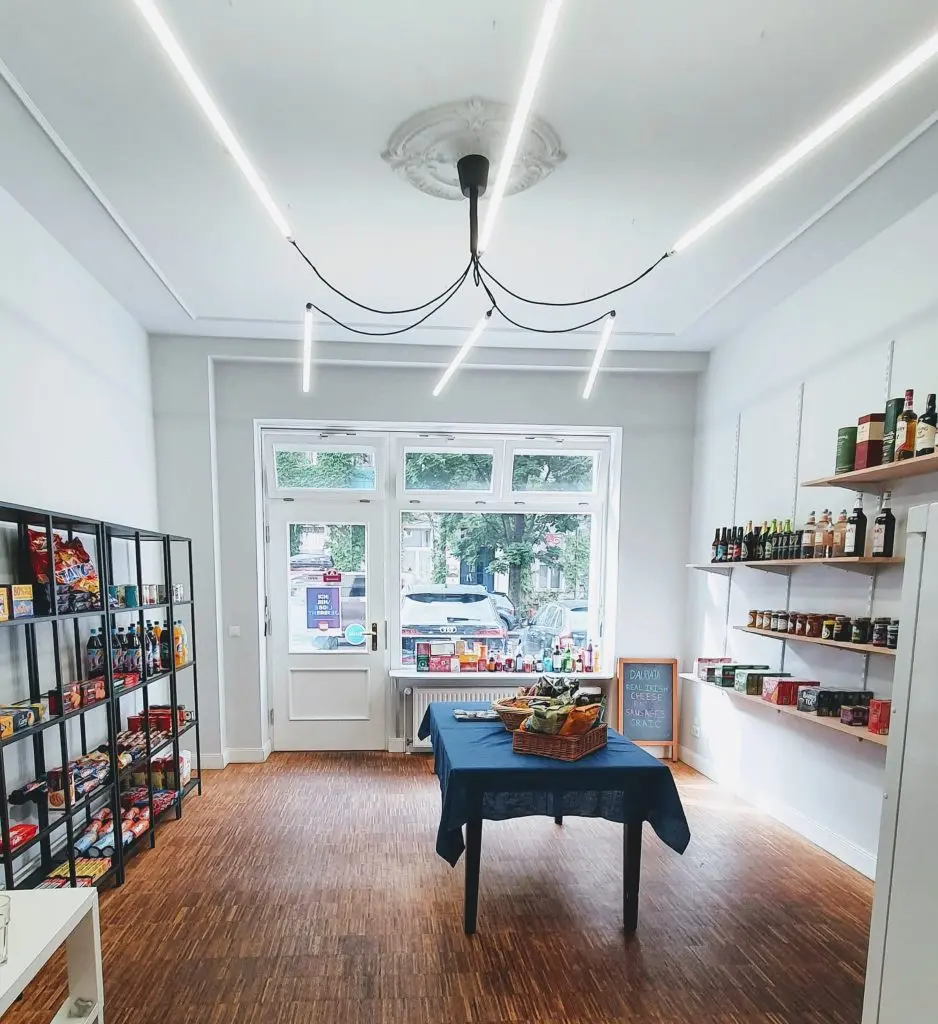 Inselfeinkost in Berlin
Dalriata ist ein Familienunternehmen mit Sitz in Berlin, das sich darauf spezialisiert hat, köstliche Lebensmittel aus Irland, Schottland und ganz Großbritannien nach Deutschland zu bringen. Wir haben unser Geschäft in Prenzlauer Berg im August 2021 eröffnet und jetzt liefert unser Online-Shop hochwertiges irisches Essen nach ganz Deutschland!
Unser ständig wachsendes Sortiment umfasst beliebte Favoriten wie Clonakilty Black Pudding , Würstchen und Speck sowie handgemachte Spezialitäten aus lokaler Produktion. Wenn Sie also ein Ulster Fry oder ein komplettes englisches Frühstück zubereiten möchten, haben wir alles, was Sie brauchen, und noch viel mehr.
Wir verwenden modernste Verpackungen, um Ihre Bestellung von unseren Standorten in Berlin nach ganz Deutschland zu versenden. Unsere zu 100 % recycelbare Verpackung besteht aus Altpapier und schützt Ihre Bestellung, damit sie in einwandfreiem Zustand bei Ihnen ankommt. Und unser Lieferpartner DPD sorgt dafür, dass es schnell ans Ziel kommt.
Wenn Sie also nach dem besten Ort suchen, um britisches Essen in Deutschland online zu kaufen, probieren Sie stattdessen den besten Ort, um irisches Essen in Deutschland zu kaufen!
---
Zeigt alle 103 Ergebnisse
Zeigt alle 103 Ergebnisse